About Vue Coaching
We have rearranged the alphabet and put "U" first. At Vue Coaching the client is always at the center of the coaching process. Its all about your goals, your dreams, your aspirations and your results.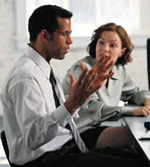 ~Whether you are a business, Sales professional, entrepreneur, or an individual sometimes you get "stuck" or just need a "Sounding Board" we will customize the coaching partnership around your goals and needs to get you moving again.
Our philosophy of coaching is one of equal partners focused on your priorities.
We help our clients realize their full potential, if your goal is improvement in one or more of the following areas;
More Money
More Focus
More Prospects
More Returned Calls
More Time
More Skills
More Clarity
More Confidence
Less Stress
Let's work together to achieve outstanding results.
"U" are powerful, "U" are important, "U" know what is right for you. Vue Coaching will inspire you with powerful questions, insightful conversations, and proven methodologies that will create a path toward your desired outcomes while respecting and honoring your core values
Vue Coaching adheres to the IAC Ethical Principles and Code Of Ethics.